Creating a community free of domestic violence requires continual information sharing and dialogue. Stay connected with us through the information resources on this page and – please – share what you learn.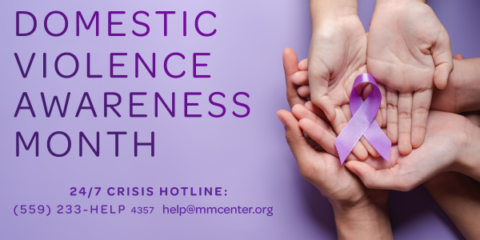 Join the Marjaree Mason Center in recognizing Domestic Violence Awareness Month (DVAM) this October with a number of events and social media campaigns you can support to get involved and break the silence surrounding domestic violence. Learn how you can be part of making meaningful change and join the Marjaree Mason Center's efforts to create a community free of domestic violence
The cycle of violence is a repeating pattern often seen in abusive relationships. It involves three different stages that continuously repeat until the victim is able to leave the relationship. What often makes the situation even worse is that as the cycle continues the violence often escalates and worsens.
The average family in crisis is a mother with two children who stay at the Marjaree Mason Center for 34 days. At any given time, 60% of those staying in our safe house are children. At MMC, we devote a lot of our time to helping and healing families.
Everyone deserves a safe place to call home, especially during the holidays. This holiday season, MMC will support hundreds of families as they navigate one of the most stressful times in their lives.