Partner With Us
Grid Pop Up Icon
Explore this page to discover the many ways you can help us create a community free of domestic violence.
Stay Informed —
Join Our Email Newsletter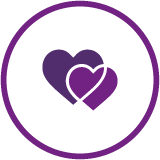 Share Your Heart
On average, the Marjaree Mason Center serves over 8,000 adults and children affected by domestic violence per year. The generosity of our donors has allowed us to provide safe housing and other supportive services for over 40 years. This February in honor of Valentine's Day, 15 businesses in 23 locations across Fresno County are accepting donations of $1 or more for MMC. If you donate to MMC at the register, sign a heart to let your community know that you support survivors. We thank each of these businesses for their partnership in ensuring adults and children have the necessary support available to help them heal from domestic violence.
Batter Up Pancakes (8029 N Cedar Ave, Fresno)
Activate Nutrition (2767 W. Shaw Avenue Ste 114, Fresno)
Belmont Car Wash and Shop N Go #620 (5994 E. Belmont Avenue, Fresno)
D&L Floral – 3 locations (7280 N Blackstone Ave, Fresno - 872 Herndon Ave, Clovis - 2019 E Shaw Ave Fresno)
Deli Delicious – (264 N. Fresno Street, Fresno)
Full Circle Brewing Co. (712 Fulton Street, Fresno
Kikku Japanese Food – both locations (2336 Tulare St, Fresno – 7785 N. Palm Avenue #101, Fresno)
The Market (7088 N. West Avenue, Fresno)
The Meat Market (454 Alluvial Avenue West, Fresno)
MEGA Texas Barbeque (2429 E McKinley Ave, Fresno)
Pum Bum Society (7745 N Via Del Rio, Fresno)
The Quesadilla Gorilla – 3 locations (608 E. Weldon Avenue, Fresno, 102 W. Seventh Street, Hanford and 302 W. Main Street, Visalia)
Rocket Dog Gourmet Brats and Brew – (88 E Shaw Ave., Fresno)
Sal's Mexican Restaurants – 3 locations (7476 N. Fresno St at Alluvial, Fresno, 2163 Park Street, Selma and 2001 W. Cleveland Avenue, Madera)
Summer Fox Brewing Company – 2 locations (6585 North Santa Fe Avenue, Fresno & 2700 Clovis Avenue, Unit 104, Clovis)