Creating a community free of domestic violence requires continual information sharing and dialogue. Stay connected with us through the information resources on this page and – please – share what you learn.
October is Domestic Violence Awareness Month: Get Involved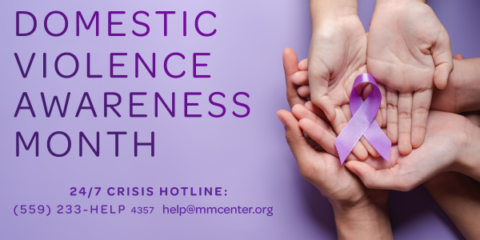 Join the Marjaree Mason Center in recognizing Domestic Violence Awareness Month (DVAM) this October with a number of events and social media campaigns you can support to get involved and break the silence surrounding domestic violence.
Domestic Violence Awareness Month was created by the National Coalition Against Domestic Violence and began as an occasion titled "Day of Unity" which was held in October 1981. The Day of Unity soon grew into a week and in October 1987, the first National Domestic Violence Awareness Month was observed.

While we work to raise awareness about domestic violence and abuse in Fresno County year round, DVAM is a time when everyone can contribute to the cause to better the community. Of the ten most populated counties in the State of California, Fresno has the highest per capita calls to law enforcement for domestic violence, according to the California Department of Justice. The next highest county is San Diego with only 534 per capita calls, vs. 1,112 in Fresno County.
This is a conversation that needs to take place!
Here's how you can be part of making meaningful change and join the Marjaree Mason Center's efforts to create a community free of domestic violence:

Download and share our DVAM Guide: This guide includes information you may not know surrounding the topic of domestic violence, guidance on how to support survivors of domestic violence, what to do when someone asks for help, and more. It's a meaningful tool to download and share. Click here to take a look and download the guide now.
Download and share our DVAM Calendar: There's 31 ways you can make an impact this October. From posting on social media to checking in with a friend... we challenge you to check-off all 31 activities! Click here to download the calendar now.
Share MMC videos. Have you been to the Marjaree Mason Center's YouTube channel? Click here to watch and share survivor stories and testimonials.
Top Ten Professional Women & Leading Business Awards: October 18. The Top Ten Professional Women & Leading Business Awards are a hallmark awards that highlights the achievements and commitment of individuals who have raised the bar in their professions and enriched the lives of others. This year's keynote speaker is Leslie Morgan Steiner, a highly acclaimed New York Times best-selling author, a renowned columnist, a former corporate executive, and an inspiring domestic violence survivor. To learn more about the event, this year's speaker, honorees, or to get your tickets now, click here. Ticket sales will close October 11th!
Purple Thursday: October 19. Wear purple to raise awareness. Use #PurpleThursday and tag MMC! Everyone is encouraged to wear all things purple as a symbol of peace, courage, survival, honor, and personal dedication to domestic violence awareness. Don't have purple to wear? MMC has a t-shirt available and proceeds benefit our programs and services. Plan ahead and order by October 6th to get your shirt before the 19th. Click here to get yours now.
Go #MakeupFreeforMMC: October 26. That day doesn't work? You can go makeup free anytime in October! We encourage you to post a makeup-free selfie (group selfies are encouraged) on social media to raise awareness about domestic violence and refuse to cover up abuse. Use #MakeupFreeforMMC and tag @MarjareeMasonCenter.

Here's an example of what you can say to support the cause: I'm going #makeupfreeforMMC in support of Domestic Violence Awareness Month and @marjareemasoncenter. 1 in 4 women will face some type of abuse in their lifetimes. It's on us to stop the shame and spread awareness. I challenge @exampleuser…

Donate: In one year, MMC provides services for over 8,000 adults and children. Your gift can make a difference in the lives of domestic violence victims. Click here to learn more.