Creating a community free of domestic violence requires continual information sharing and dialogue. Stay connected with us through the information resources on this page and – please – share what you learn.
Domestic Violence Awareness Month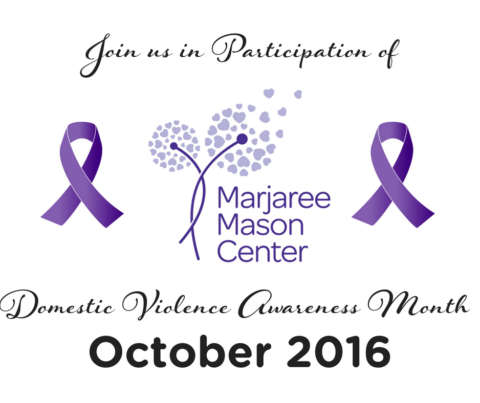 October is Domestic Violence Awareness Month (DVAM), which has a rich, meaningful history in our nation. DVAM was conceived from the "Day of Unity" in October of 1981 by the National Coalition Again Domestic Violence. The intent of the "Day of Unity" was to connect advocates working to end violence against women and children in the nation. From there, the purpose behind the "Day of Unity" became well-established and represented nationwide, and began to extend over an entire month. The first DVAM was in October 1987. Two years later, U.S. Congress passed legislation, which designated October as DVAM.
The primary focus of DVAM is three-fold:
Remember those who have been victims of domestic violence
Celebrate survivors of domestic violence
Work to end the cycle of abuse
Domestic violence awareness is associated with the color purple. Throughout October, people decorate their lives in the color purple – from t-shirts and ribbons to nail polish and hair color. The color purple is a symbol of peace, courage, survival, honor and dedication to ending violence. It is a salute to survivors and those we have lost to domestic violence.
Raising awareness of domestic violence is an important piece of working to end the cycle of violence. One in four women and one in seven men in the United States will be affected by domestic violence in their lifetime. If you have not experienced domestic violence in your own relationships, then chances are you know someone who has been or may currently be in an abusive situation.
Would you like to participate in DVAM this month? Here are a few ways to help raise awareness of domestic violence in your community:
Become a partner with Marjaree Mason Center through monetary and/or in-kind donations.

Text "Give" to 559-512-7780 to donate
Click here for information about partnering with MMC.

Participate in Purple Thursday on October 20th by wearing the color purple. Post your ppurple outfit photos on social media with #PurpleThursday.
Visit Orloff Jewelers in Fig Garden Shopping Center on October 20th

First 50 people wearing purple that mention Purple Thursday or MMC will receive a free purple ribbon label pin
Be entered in to a raffle for a loose amethyst gemstone
10% of net sales will benefit Marjaree Mason Center. Be sure to mention Marjaree Mason Center to contribute.

Participate in #MakeupFreeforMMC by simply taking a photo of yourself without makeup on and posting it on your social media page with #MakeUpFreeforMMC and then tagging three friends to participate. To further support the cause, you can make a donation by texting "GIVE" to 599.512.7780 or visiting our website at mmcenter.org.
Learn more about domestic violence (Check out our Domestic Violence 101 blog posts)
Spread awareness throughout your community
As always, Marjaree Mason Center is here to help you or someone you may know who is experiencing domestic violence through our 24/7 confidential hotline (559.233.HELP).